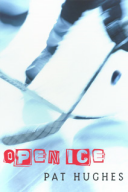 Ever since he was young, sophomore Nick Taglio's life has revolved around hockey. Nicky not only enjoys hockey, but he's great at it and plans to get an athletic scholarship to college. No matter how dangerous hockey is and how many concussions Nick receives, he continues to play. Between hockey and his girlfriend, Nick's life is good. Then, Nick receives another concussion, his fourth one in fact by keeping his head down, his number one habit. This concussion is not like the others, and Nick may never play hockey again. If Nick loses hockey, his life, then what else is left for him?
When I began reading
Open Ice,
I was a bit apprehensive because I had heard few things about it. Basically, all I knew was that the book was a coming-of-age novel about hockey. I like coming-of-age and hockey, so I figured I would give it a way. Luckily, I thought
Open Ice
was a good novel. Pat Hughes did a great job characterizing Nick. He was an incredibly realistic character, and I enjoyed the way Hughes portrayed him after his concussion. That's not to say I agreed with his actions, but his actions seemed like the way many guys would have reacted to being told to say goodbye to their favorite sport. Hughes also did a great job portraying Nick's parents. When dealt with Nick's situation, they acted in a responsible manner, without seeming cheesy.
The only character I had a complaint about was Devin, Nick's girlfriend. She's a stereotypical girl who only wants to date a star hockey player, and Nick is completely smitten (in the beginning at least). I think Hughes could have developed Devin more, while still keeping her general persona. Devin was just so blaaah, and aside from looks, I could not see any reason Nick dated her. At times, I also thought Hughes tried to push to appealing to teens too much. The smoking pot and Daves Matthews Band seemed forced at times. Overall, however,
Open Ice
is a wonderful portrayal of dealing with life after a sport injury.
I would recommend
Open Ice
to anyone looking for a coming-of-age that reveals the hardships of leaving a favorite sport.
Related Links
Pat Hughes's Site
Random House Teens
Amazon
Powell's
I received this book from YA Books Central.