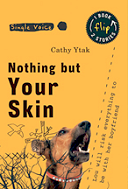 Nothing But Your Skin
is one of six stories that is a part of the Single Voices series by Annick Press. Each book comes with two stories.
Nothing But Your Skin
is grouped with
The Pool Was Empty
. As a teenager myself, I really loved this concept.
I generally write my own summaries, but I happen to love the summary from Annick Press's
website
for
Nothing But Your Skin
, so I am using it.
Louella hates her name. She's obsessed with colors and when she gets upset, she yells herself hoarse. People call her "slow," but Lou knows one thing for sure: she wants to be with her boyfriend—no matter what her parents or doctors think. Poignantly and sensitively told,
Nothing But Your Skin
chronicles the aftermath of a mentally challenged girl's decision to have sex.
Nothing But Your Skin
is a simple, yet powerful love story. From the beginning Cathy Ytak engulfs readers into a her story. The plot line itself, a mentally challenged girl decides to have sex, is unique, and I really enjoyed it. Lately, it seems like many YA novels share similarities, so this short story was refreshing. I also liked how Ytak touched onto the thoughts of Louella's family. By doing this, Ytak demonstrated Lou's feeling of alienation (because her parents do not believe Lou chose to have sex), which is something all teens can relate to. Because the story was rather short, however, Ytak did not delve quite as deep as I would have liked. Maybe a few pages longer would have been nice.
This short story strongly reminded me of a Korean movie,
Oasis
. If any of you have watched and enjoyed it, then I strongly suggest you grab a copy of
Nothing But Your Skin/The Pool Was Empty
.
Below is a book trailer for the
Single Voices series
:
Six bloggers were chosen to review each story, so below are the links to the other bloggers!
The Pool Was Empty/Hey! Teenager of the Year
Descent Into Paradise/Greenbean Teen Queen
A Place to Live/The Book Muncher
I Am Not Emmanuelle/Cindy's Love of Books
Just Julie/1330v