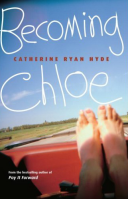 After being kicked out of his house for being gay, Jordy is forced to leave out on the streets of New York City. Jordy meets Chloe after she was just raped. Something about Chloe intrigues Jordy from the beginning. She seems so innocent and fragile, yet Jordy knows she's experienced horrible things. Chloe, however, believes that the world is an ugly place, and Jordy is determined to prove her wrong. Together, Jordy and Chloe embark on a road trip to find the beauty in the world. Can Jordy show Chloe that beauty still exists?
I found
Becoming Chloe
to be a refreshing and inspirational read. A lot of YA novels out today tend to overcomplicate things by adding paranormal elements or controversial topics. Catherine Ryan Hyde, however, goes to opposite route by making a fairly simple novel, and in my opinion, simplicity can be much harder to write about. Luckily, Hyde did an excellent job writing this novel. In essence,
Becoming Chloe
is about two teens trying to make the most of their lives. Hyde could have easily focused the novel on the struggles Jordy and Chloe have faced, but she doesn't. Instead, her focus is on the beauty of the world. The simplicity of this novel is what makes it so wonderful. The novel reveals that beauty still exists in a world that is so full of hate. A very simple, yet powerful message, very much like the book itself.
The road trip in this book was epic, to say the least. With little money, Chloe and Jordy plan to go from New York City to the West Coast, where they can ride horses on the beach. Their trip is not without struggles, but to see Jordy and Chloe make so much of their horrible lives was inspiring. This novel seriously makes me want to spread hope, peace, and love. Ha.
I recommend
Becoming Chloe
to anyone who is looking to find hope in the world.
Related Links
Catherine Ryan Hyde's Site
Random House
Amazon
Powell's