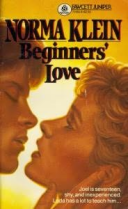 Joel is a beginner at love. Most girls tend to overlook him, and go for his best friend, Berger, instead. Then, one day at the movies, Joel meets Leda. Before long, Leda and Joel begin dating. Being a beginner at love, Joel is more than nervous. Not too mention, Leda is more experienced...
I decided to
bookmooch
Beginners' Love
after seeing
this post
over the summer. Frankly, I was curious to see just how much time can affect a YA novel. I found myself somewhat surprised. Norma Klein did a wonderful job writing
Beginners' Love
. If I was a teen in the 80s, I would have loved this book. I found
Beginners' Love
to be a very realistic novel, which shocked me. As a current teen, I thought any 80s YA novel would shy away from important topics like sex. While I think Klein could have done a better job, I was still impressed. In a way, this book even reminded me
Anatomy of a Boyfriend
.
Beginners' Love
did have a few generation gap differences (if that makes sense). I seriously had no idea what a diaphragm was until I read this. Also, I did not understand most of the pop culture references. This book also made me realize how smoking is perceived has changed over the years. My main dislike about
Beginners' Love
was the poor ending. Throughout the entire book, Klein wrote about provocative subjects. At the end, however, it seemed like she avoided truly discussing the controversial topics, which made no sense to me. Had this book been written in today's society, I think Klein would have hit these topics straight on.
In a way, reading this book was like time traveling. I felt myself warped into a world similar, yet completely different from my own. This book also poses an important question: Can current YA novels stand the test of time? I think a select few can. While I hope
Twilight
can be forgotten (too late for that, probably), I would love to see my children reading
The Hunger Games
.
Related Links
Amazon
BookMooch
Norma Klein Obituary
I received this book from a trade.