In My Mailbox was created by Kristi of
The Story Siren
. :)
The Unwritten Rule - Elizabeth Scott


After - Kristin Harmel
Lacey's world shatters when her dad is killed in a car accident. And secretly? She feels like it's her fault. If she hadn't taken her own sweet time getting ready that morning . . . well, it never would have happened. Her mom wouldn't be a basket case. Her brother Logan wouldn't drink. And her little brother would still have two parents.
But life goes on even if you don't want it to. And when Lacey gets the chance to make a difference in the lives of some people at school, she jumps at it. Making lemonade out of lemons is her specialty. Except she didn't count on meeting a guy like Sam. Or that sometimes? Lemonade can be a pretty bitter drink to swallow.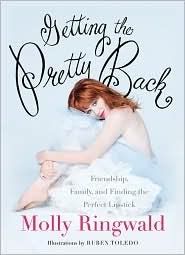 Getting Her Pretty Back - Molly Ringwald

To her millions of fans, Molly Ringwald will forever be sixteen. As the endearing and witty star of the beloved John Hughes classics Sixteen Candles, The Breakfast Club, and Pretty in Pink, Molly defined teenage angst, love, and heartbreak. While remembered eternally as the enviable high school princess Claire, or the shy, vulnerable Samantha, Molly has just celebrated her fortieth birthday. Facing a completely new, angst-inducing time in her life, she is embracing being a woman, wife, mother of three, actress, and best friend with her trademark style, candor, and humor.
In Getting the Pretty Back, Molly encourages every woman to become "the sexiest, funniest, smartest, best-dressed, and most confident woman that you can be." She shares personal anecdotes and entertaining insights about the struggle to get through the murky milestones and identity issues that crop up long after the prom ends. Whether she's discussing sex and beauty, personal style, travel and entertaining, motherhood, or friendship, Molly embodies the spirit of being fabulous at every age, and reminds us all that prettiness is a state of mind: it's "the part of you that knows what you really want, that takes risks."
Lavishly illustrated by Ruben Toledo,
Getting the Pretty Back
is sure to charm women of all ages with Molly's unforgettably personal, refreshingly outspoken take on life, love, and, of course, finding that perfect red lipstick. . .