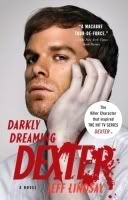 By day, Dexter Morgan is a blood splatter analyst for the Miami Police Department. By night, Dexter is a vigilante serial killer. He has gone years unnoticed by the people around him--his coworkers, his girlfriend, his sister, etc. However, Harry knew who Dexter was. After meeting a young Dexter at a gruesome crime scene, Harry decided to adopt him. Before long, Harry had to teach Dexter the art of killing while remaining uncaught. All is going well for Dexter, until a series of murders appear in Miami that unusually mimic Dexter's own murders. Who is killing these people, and how are they connected to Dexter?
After watching the tv series
Dexter
, I was more than happy that my Secret Santa (who still remains a secret...) gave me
Darkly Dreaming Dexter
. I really wanted to see how the tv show compared to the original novel, and as I'm such a huge fan of the tv show, it's impossible for me to review the book without comparing. Before I actually begin comparing though, let me discuss the book.
Darkly Dreaming Dexter
is a dark and unique novel that readers of crime novels will enjoy. Very rarely do people root for the serial killer. Bravo to Jeff Lindsay for having the ability to do that. Lindsay also did a wonderful job adding dark humor. In the series, the dark humor is one of the best parts of the show, and it's good to see that the novel incorporated just as much dark humor. The one part that fell a little flat for me were the scenes where Dexter discussed his true self. Frankly, I found the parts to be a little boring. As objectively as I can, without taking into account the tv series,
Darkly Dreaming Dexter
is a unique novel that will leave readers wanting to know more. Readers who have never watched
Dexter
are also sure to enjoy the novel.
And now it's time for some major comparing. As I have already mentioned (several times), I am a big fan of
Dexter
. I have watched all the seasons and am anxiously waiting the next.
Darkly Dreaming Dexter
correlates to the first season of
Dexter.
If you have watched the first season of
Dexter,
you are probably wondering if you should read the novel. I say, do it! First of all, it's always fun to compare, and second, the tv show made a change towards the end that has affected all the later seasons. Having said that, do not expect the novel to be better than the tv series. I still thoroughly enjoyed the novel, but personally, compared to the cast of the tv series, the characters in the novel fell flat, especially Dexter. Michael C. Hall does an amazing job playing Dexter, and I'm hoping he wins the 2009 Golden Globe (This is his 3rd nomination as Dexter). Hall gives the character so much depth that Lindsay could not do with his own character. One plus with the book, however, is no awkward sex scenes! The tv series has quite a few.
Now, if you've never watched
Dexter,
what are you waiting for? Go watch it now! If you don't have access to Showtime, the
first season is only $20 on amazon!
Now, time for a random fun fact: Jeff Lindsay's wife is the niece of Ernest Hemingway.
Related Links
Random House's Dexter Website
Showtime's Dexter Website
Amazon
Powell's
This book was a gift from my Secret Santa.