In My Mailbox was created by Kristi of
The Story Siren
.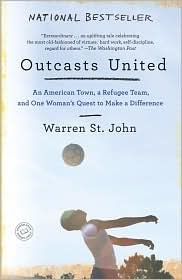 Outcasts United - Warren St. John
The extraordinary tale of a refugee youth soccer team and the transformation of a small American town
Clarkston, Georgia, was a typical Southern town until it was designated a refugee settlement center in the 1990s, becoming the first American home for scores of families in flight from the world's war zones—from Liberia and Sudan to Iraq and Afghanistan. Suddenly Clarkston's streets were filled with women wearing the hijab, the smells of cumin and curry, and kids of all colors playing soccer in any open space they could find. The town also became home to Luma Mufleh, an American-educated Jordanian woman who founded a youth soccer team to unify Clarkston's refugee children and keep them off the streets. These kids named themselves the Fugees.
Set against the backdrop of an American town that without its consent had become a vast social experiment, Outcasts United follows a pivotal season in the life of the Fugees and their charismatic coach....
Outcasts United
is actually my required reading for freshman seminar. I read the introduction, and I look forward to reading the rest. :P