In My Mailbox was created by Kristi of
The Story Siren
.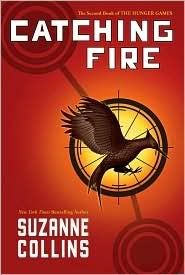 Catching Fire

by Suzanne Collins
Against all odds, Katniss Everdeen has won the annual Hunger Games with fellow district tribute Peeta Mellark. But it was a victory won by defiance of the Capitol and their harsh rules. Katniss and Peeta should be happy. After all, they have just won for themselves and their families a life of safety and plenty. But there are rumors of rebellion among the subjects, and Katniss and Peeta, to their horror, are the faces of that rebellion. The Capitol is angry. The Capitol wants revenge.
I read
The Hunger Games
when it was first released and loved it! For some reason, last year, I did not buy
Catching Fire
. Instead I waited until last week to order it, along with a pre-order of
Mockingjay
.
Catching Fire
came in the mail on Friday afternoon, and I finished it Saturday morning. So good!