In My Mailbox was created by Kristi of
The Story Siren
. :)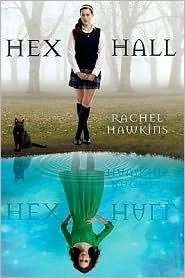 Hex Hall (ARC) - Rachel Hawkins

Three years ago, Sophie Mercer discovered that she was a witch. It's gotten her into a few scrapes. Her non-gifted mother has been as supportive as possible, consulting Sophie's estranged father-an elusive European warlock-only when necessary. But when Sophie attracts too much human attention for a prom-night spell gone horribly wrong, it's her dad who decides her punishment: exile to Hex Hall, an isolated reform school for wayward Prodigium, a.k.a. witches, faeries, and shapeshifters.
By the end of her first day among fellow freak-teens, Sophie has quite a scorecard: three powerful enemies who look like supermodels, a futile crush on a gorgeous warlock, a creepy tagalong ghost, and a new roommate who happens to be the most hated person and only vampire on campus. Worse, Sophie soon learns that a mysterious predator has been attacking students, and her only friend is the number-one suspect.
As a series of blood-curdling mysteries starts to converge, Sophie prepares for the biggest threat of all: an ancient secret society determined to destroy all Prodigium,
especially
her.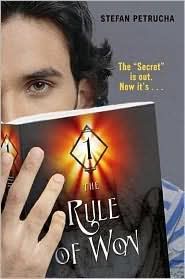 Rule of Won (ARC) - Stefan Petrucha

The secret of The Rule of Won is simple, yet its power has been suppressed for generations. The universe is one of infinite abundance—ask, and you shall receive.
Umm, yeah right. Meet Caleb Dunne, slacker extraordinaire. Caleb prefers to glide through life with the minimal amount of effort, so he isn't too jazzed when his overachieving girlfriend, Vicky, convinces him to join a new school club based on a controversial book, The Rule of Won. Slackers don't join school clubs, do they? As The Rule gains popularity, though, the club members start to gain power within the school. From dark posts on the club's online message board to all-out threats in the hallways, it becomes apparent that the group is getting out of control. For slacker Caleb, though, the only thing worse than doing something is not doing something.
Darkly funny and exceptionally thought-provoking, The Rule of Won, inspired by the ideas behind books like the runaway hit The Secret, shines a light on the dangers of group thinking and the inner desires that can sometimes get the best of us all.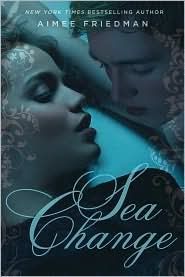 Sea Change (ARC) - Aimee Friedman
Sixteen-year-old Miranda Merchant is great at science. . .and not so great with boys. After major drama with her boyfriend and (now ex) best friend, she's happy to spend the summer on small, mysterious Selkie Island, helping her mother sort out her late grandmother's estate.
There, Miranda finds new friends and an island with a mysterious, mystical history, presenting her with facts her logical, scientific mind can't make sense of. She also meets Leo, who challenges everything she thought she knew about boys, friendship. . .and reality.
Is Leo hiding something? Or is he something that she never could have imagined?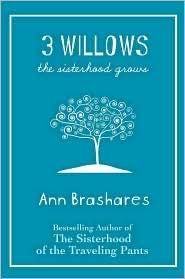 3 Willows: The Sisterhood Grows (ARC) - Ann Brashares
summer is a time to grow

seeds
Polly has an idea that she can't stop thinking about, one that involves changing a few things about herself. She's setting her sights on a more glamorous life, but it's going to take all of her focus. At least that way she won't have to watch her friends moving so far ahead.

roots
Jo is spending the summer at her family's beach house, working as a busgirl and bonding with the older, cooler girls she'll see at high school come September. She didn't count on a brief fling with a cute boy changing her entire summer. Or feeling embarrassed by her middle school friends. And she didn't count on her family at all. . .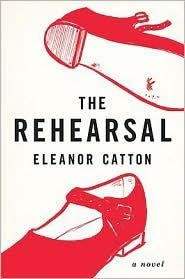 The Rehearsal (ARC) - Eleanor Catton
A teacher's affair with his underage student jolts a group of teenage girls into a new awareness of their own power. Their nascent desires surprise even themselves as they find the practice room where they rehearse with their saxophone teacher is the safe place where they can test out their abilities to attract and manipulate. It seems their every act is a performance, every platform a stage.
But when the local drama school turns the story into their year-end show, the real world and the world of the theater are forced to meet. With the dates of the performances--the musicians' and the acting students'--approaching, the dramas, real and staged, begin to resemble each other, until they merge in a climax worthy of both life and art.