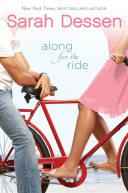 Ever since a parents' divorce, eighteen-year-old Auden has been unable to get a good night's rest. Instead, she visits the local 24-hour diner where she catches up on her studies, or rather, gets ahead. Now that her senior year is over, Auden decides to stay with a her dad, his wife, Heidi, and their newborn, Thisbe, over the summer vacation. In the quaint seaside town of Colby, Auden, discovers a world that, in the past, she was deprived of, thanks partly to her mother. Now, Auden is ready to have everything she lacked in the past, and maybe, she will finally be able to fall asleep at night again...
Along for the Ride
is my first Sarah Dessen book. Truthfully, I have no idea why I waited so long to read her novels. I think, somewhere in my brain, I just grouped her with Lurlene McDaniel. After hearing great reviews of her novels, I knew I needed to finally read one of her novels. I wanted to get of my reading comfort zone. In the past, I mostly read YA novels with male protagonists, while shying away from female ones. I realize, that's incredibly strange, but that's just me. :P
Anyway,
Along for the Ride
did not leave me disappointed. Dessen did an amazing job depicting Colby. While I was reading this book, I had a clear picture of what the town was like. It reminded me of someplace I would love to visit. I also thought Dessen's characters were spot-on, major and minor. The characters felt like they could pop out of the book at any moment. Another thing I enjoyed was the bicycle part. I thought it was really unique and relatable situation. There's always that one thing a person has never done. I, for one, never learned how to swim. Never too late though. ;)
I only had one minor problem with the book. I just could not understand how Auden learned to drive a car. Personally, I think driving is a much scarier task than riding a bike. I guess the whole "getting up after you fall" thing does not work with driving though.
So, after reading
Along for the Ride
, I am a Sarah Dessen fan. Once my unread pile gets a little smaller, I plan on reading more of her novels! Any suggestions on which one I should pick up?
Related Links
Sarah Dessen's Site
Amazon
Powell's
I won this book in a giveaway.