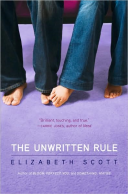 Sarah likes Ryan, the one person that she
cannot
like, no matter how long she has liked him. The truth is, Ryan is Brianna's boyfriend, her best friend. No one likes the boyfriend of a best friend. However, no matter how hard she tries to be a great best friend, Sarah cannot resist the temptation. Will Sarah ever be able to tell Brianna her feelings toward Ryan, and if she does, will Brianna ever want to see her again? Caught in between wanting to be a good best friend and having Ryan, will Sarah be able to a make a choice that will make herself happy?
The Unwritten Rule
is my first Elizabeth Scott novel. To be honest, I was slightly disappointed. I felt that Scott did not fulfill the book's complete potential. Scott characterizes Brianna as a bossy person, who only shows affection through unkind remarks. Throughout the novel, I was just waiting for Sarah to stand up for herself. I felt like she was a complete pushover. Scott demonstrates that Brianna's nature is due to her parents' treatment of her. However, I still
could not
feel sympathetic towards her.
The ending took me by surprise. I expected a "and they all lived happily ever after" sort of ending, but it was not. Without spoiling anything, Scott ends the novel in a way that makes complete sense with the characters in the novel. It's hard to say much without spoiling.
After reading
The Unwritten Rule
, I can see that Scott is an author that is not afraid to take risks. In this case, I thought that some of risks worked (the ending), while others failed (Brianna's character). I look forward to reading more books by Scott. I currently have
Perfect You
on my bookshelf, and her more serious novels look fantastic too.
Related Links
Elizabeth Scott's Site
Simon Pulse
Amazon
Powell's
I won this book from a giveaway.