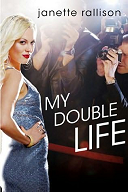 Alexia Garcia looks almost identical to pop sensation Kari Kingsley. One day, a picture of her becomes viral on the the internet, and Kari's manager, Maren, calls her. Maren offers Alexia the chance to work as Kari's double. At first, Alexia is reluctant, but then she learns that this may be her one chance to meet her father.
Hollywood is completely different from Alexia's hometown, Morganstown, West Virginia. For one, the guys are a LOT more hunkier. Alexia soon finds herself in a romance with Grant Delray. The only problem is, he thinks she is Kari Kingsley! Will Alexia ever be able to tell Grant her true identity, and will he want anything to do with her afterwards?
I really enjoyed reading
My Double Life
. On first glance, the novel seems like sugary sweet goodness, without any true substance. Rallison, however, cleverly adds in a family plot line, that not only gives the book substance, but also makes it
unique
. I also liked how Rallison made Alexia half-Latino. Doing this allowed Alexia to be a memorable character. Another character I enjoyed was Kari Kingsley. Rallison's portrayal of Kari revealed that even Kari, who has always been surrounded by Hollywood, struggles with her fame. Humanizing Kari allowed readers to sympathize with her situation, even if the sympathy was little.
Another reason I liked
My Double Life
was that the book allowed me to view an event I have fantasized about. I mean, we have all dreamed about becoming famous right? Like the rest of us, Alexia dreamed about it, and she got to fulfill her fantasy. It was a fun adventure, and I was definitely swooning over Grant Delray, especially near the end. As I was reading, I was practically grinning ear to ear. Yes, I became starstruck over a fictional character. The only problem I had with
My Double Life
was the end. I felt that a part of it seemed too good to be true.
I recommend
My Double Life
to anyone who has ever fantasized about being famous.
Related Links
Jennifer Rallison's Site
Putnam Juvenile
Amazon
Powell's
I received My Double Life from Book Divas.